Bi-Stable Rotary Solenoids

Product introduction
Takano's rotary solenoids use cylindrical permanent magnet as the rotor and produce true rotational motion from the repulsive and attractive forces induced between the permanent magnet and the magnetic poles in the yoke. Even after de-energization, the solenoids stay in position using the holding force of the permanent magnet. Unlike conventional rotary solenoids built to mechanically convert the back-and-forth linear motion (thrust-direction motion) of the shaft into rotational motion, our rotary solenoids produce rotational motion with no axial movement of the shaft and hence have a longer life.
It's bi-stable

Bi-stable type switches clockwise and counterclockwise rotation every time the current direction is changed between +(positive) and –(negative). Even after de-energization, the solenoid stays in its position using the holding force of the permanent magnet. Unlike the rotary solenoids that use a spring for the motion of one direction, bi-stable solenoid rotate in both directions by magnetic force and current pulse.

High power and fast response

It is high power and quick response because this solenoid reciprocates by the change of current direction, +(positive) and –(negative), instead of using spring.

Flexibility in travel angle up to 90°

Travel angle can be set up to 90° depending on your application requirement.(Requires external stops. See How to set external stops for details. )

Extremely silent

There is no axial motion of the shaft in thrust direction and the end stops are set externally. This leads to minimizing the impact noise when in operation. For types with internal end stops, countermeasures are taken for impact and vibration by carefully choosing the buffer used for the stops.

Long Life

Long life because of no sliding parts except for the bearing.

Return-by-spring type is also available

Self-restoring types using spring return are also available, enabling a fail-safe capability.
Series Comparative Table
Flat type Rotary solenoids
RSF22 Series
Flat type Rotary solenoids
RSR28 Series
Micro type Rotary solenoids
RSR7 Series
Micro type Rotary solenoids
RSR10 Series
Power−Saving/Low−Heat type Rotary solenoids
RSU14 Series
High Durability type Rotary solenoids
RSR14 Series
Standard type Rotary solenoids
RSR20 Series
Large type Rotary solenoids
RSR80 Series
Rotary Solenoids with Built−In Stops
RSE32/47-C Serie
Rotary Solenoids with Built−In Stops
RSF26/20 Series
Rotary Solenoids with Return Spring
RSR28-SR/SL Series
Driver board for rotary solenoids
TSD Series
Series list
Please refer to each product page for detail specifications.
Structure and Operating Principles
High torque and high speed response within a constant operating angle.
Ideal for operations that reciprocate within an angle of 90° or less.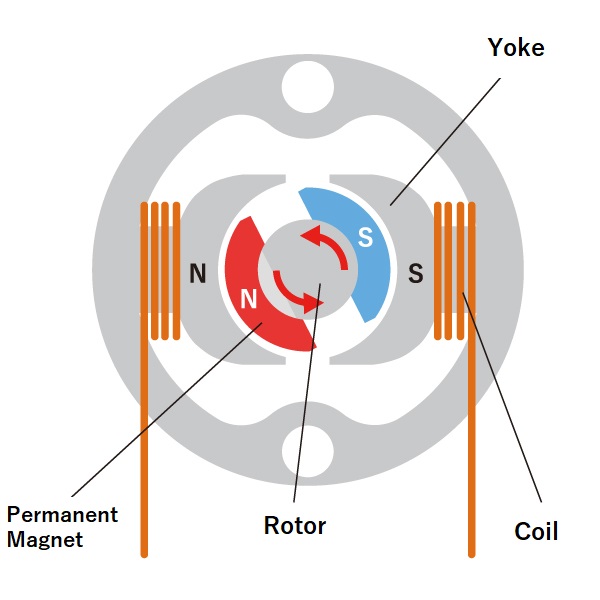 A rotary solenoid is a rotary actuator designed specifically for reciprocating motion.
Our rotary solenoid consists of two yokes on the fixed side, a coil, and a movable rotor part with a permanent magnet. By switching the electrical current direction of the coil, the N / S on the coil side is switched. The permanent magnet of the rotor repels the N / S on the coil side, causing reciprocating operation.
Although it cannot rotate like a general motor, it has higher torque, higher response, and is superior than any motor of the same size in reciprocating movement within a certain angle.
De-energized Holding Power/Low Power Consumption.
The retention torque can hold the position at no longer electrification. Power-saving because it can be designed to lower the energization rate.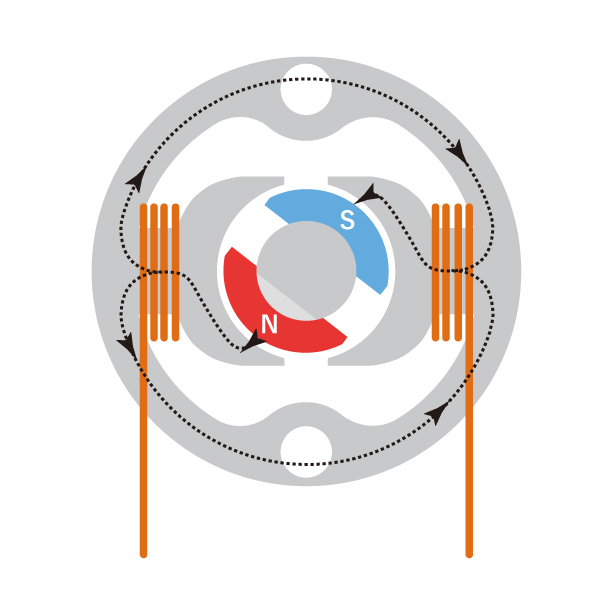 The permanent magnet creates a magnetic field from the N pole to the S pole when de-energized. Therefore, even at the time of non-energization, holding power is kept with the adsorption force of the permanent magnet to hold the set position.
Able to operate with only starting current due to the lack of necessity of a holding current. Reduced temperature rise and power consumption.
Please select a model according to the weight of your load.
Rotary solenoid operating principle video
How to use bi-stable solenoid
External stops
Except for some models, Takano bi-stable rotary solenoids have no built-in stops.
Therefore, external stops must be set separately to mechanically define the travel angle.
In this case, use rubber or similar buffer material for the stop. Avoid the use of metal stops that causes strong metal-to-metal impact which may lead to failure of the solenoid.
【How to set external stops】
When Takano bi-stable rotary solenoids are delivered (which no stops are equipped), physical relation between the magnet and the shaft D-cut is as shown in Fig. A) or B) below. The state is magnetically balanced and stable.




(A)

(B)

Before use, turn the shaft D-cut from the as-delivered stable position and then set external stops. In standard, the center point of rotation and the center between stops are 0° as shown in each product drawings.

The practical rotation range is up to ± 45° from the center point (total travel angle of up to 90°). Set the external stops within this range.




Practical Rotation Range 90°

Practical Rotation Range 90°
Bi-stable drive circuit
To rotate bi-stable rotary solenoid from one end to the other and return, polarity of energization(+/-) needs to be switched.
Fig. 2 shows a typical drive circuit diagram for your reference.
We also provide a driver board as an option for operating our solenoids.