Self-restoring Rotary Solenoids

Self-restoring rotary solenoid rotates its shaft between two positons. It is magnetically latched at the original position and rotates to and stays at the other position while energized. When the power is removed, it rotates back to the original position.
Features of Takano Self-restoring Rotary Solenoids come from their unique internal structure. They employ the fundamental structure of our Bi-stable Rotary Solenoid. This enables our Self-restoring Rotary Solenoids to provide True Rotary Motion and other various benefits to the users.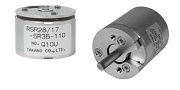 Features
1. True Rotary Motion
Inside many rotary solenoids in the market, linear axial movement of the shaft is converted into rotary motion to achieve the rotation of the shaft.
Meanwhile, Takano Self-restoring Solenoids employ the True Rotary Motion structure (rotation only) of our Bi-stable Rotary Solenoids. This enables to provide various unique benefits to the users.
(1) Silent
It is silent because there is no linear motion that causes hitting noise when stopping at the end.
(2) Long Life
It is long life because there is no slide inside to support linear motion that generates abrasion.
(3) Easy to Design, Easy to Integrate
Because there is no movement in axial direction, only thing you need to care is the rotation angle.
This will simplify your work for the application design and integrating the solenoid inside. For
example, it helps you to prevent light leakage or defocus when our solenoids are used for actuator
of optical shutters and filter changers.
2. Permanent Rare Earth Magnets
Permanent magnets inside employ rare earth. The benefits are,
(1) High dynamic response
Suitable for rapid positioning applications.
(2) High power in small package
They are compact and space saving.
(3) High operating & curie temperature
Allows operation in high temperature environment.
3. Extremely Long Life (Dual Ball Bearing, Magnetic Return)
In addition to True Rotary Motion, dual ball bearing that supports the rotary motion enables to achieve life time of 50 million cycles. No replacement cost is necessary over life of most applications.
Series Comparative Table
Type & Features
Series
Travel
angle

Peak Torque(mN・m)

Dimension
(mm)
5V
12V
24V

Self-restoring (spring) type
Self-restoring type by spring force with bi-stable internal structure. It is long life because there is no axial stroke of shaft during the rotational movement like the conventional rotary solenoid does.

RSR28/17-SR(-SL)
25°
35°
45°
-
5.2/-
-/5.2
φ28 × 20
Please refer to each product page for detail specifications.
Contact us