Step Rotary Solenoids
Takano Step Rotary Solenoids apply the fundamental structure of bi-stable rotary solenoid with additional magnetic poles to enable multi-positional control.
Similar to bi-stable rotary solenoid, the forces of attraction and repulsion between the permanent magnet of the rotor and the magnetic pole generated in the yoke induce rotational (step) motion for rapid switching between multiple positions.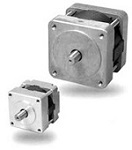 Features
1. Capable of multi-position control
Up to 12-position control in increments of 30° and up to 6-position control in increments of 60°, depending on the energization method.
2. No external stops required
These step solenoids need no external stopper because they stay in position using the holding force of the permanent magnet even during the de-energized state.
3. High torque
High torque enables direct drive.
4. Noise-free
Operates with no external stopper which frees you from the impact noise caused when the load hits the stopper.
5. Long life and high-reliability design
Because there is no stopper that generates impact and the only parts that actuate is the ball bearing, this Step Solenoid is long life and highly reliable.
6. Absolute position control
Because of absolute position control, there is no step-out such seen on stepper motors.
Series List
Motion
Type
Series
Features
Multi-position
Compact size
RSS14 series
RSS14/10-CAB0

No stopper is necessary, therefore, no noise is produced and bi-directional switching is available. Highly suitable for actuation of optical shutter in medical and optical equipment.
Standard size
RSS20 series
RSS20/20-T008

2 positions and 3 positions can be set and used in automatic ticket checkers and conveying machinery. Since there is no stopper, durability is sufficient.
Series Comparative table
Travel angle
Dimensions (mm)
De-energized
holding force (Nm)
Energized
holding force (Nm)
RSS14/10-CAB0
30°/60°
30 × 30 × 30
0.008
0.02
RSS20/20-T008
30°/60°
50 × 50 × 43
0.025
0.088
Please refer to each product page for detail specifications.
Contact us