Self-restoring Rotary Solenoid RSR28/17-SR(-SL)
(spring type)
Return-by-spring type rotary solenoid.
Because there is no axial stroke of the center shaft during the rotation like the conventional rotary solenoid, it will free you from displacement of the load attached. It is suitable for high-precision usage.
Equipped with a stopper in standard and available in various operating angles. The end stops are equipped with buffer material to reduce impact noise.
Specifications
Travel angle
25° , 35° , 45°
Rated voltage
DC12 V / DC24 V
DC resistance (@20℃)
27.5 Ω / 110 Ω
Inductance (φ=0°)
8 mH / 30 mH
Rotation direction

SR: CW (when energized)

SL: CCW (when energized)

Saturation
temperature rise of coil


Δθs ≈ K x W x 1/f (℃)
K = 17 ℃/W (@20℃)
1/f : Duty rate 〔On Time/(On Time + Off Time)〕

Time constant
of temperature rise
5 minutes
Heat resistance class
Class E (120°C)
Insulation resistance
DC 500 V MEGA, Over 100 MΩ
Dielectric strength
AC 500 V, 50/60 Hz, 1 minute
Rotor inertia
1.8 g·cm2
Mass
50 g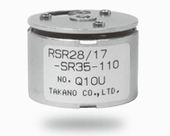 Model number



 (1)Rotation direction (SR: CW when energized / SL: CCW when energized)
 (2)Travel angle (degree)
 (3)Resistance (Ω) 
Dimensions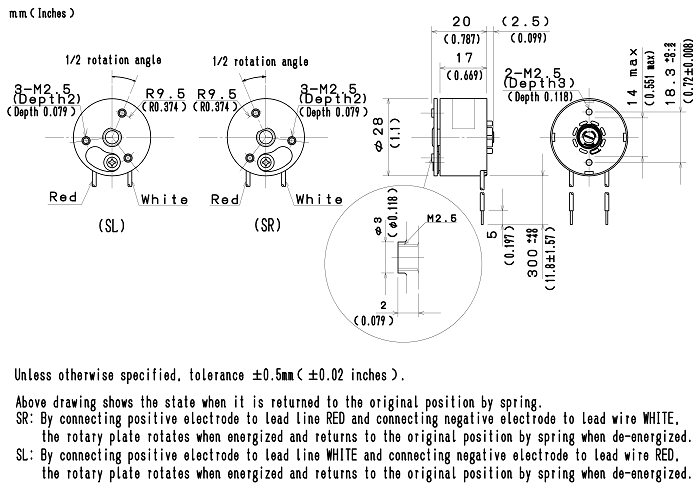 Torque characteristics Response characteristics (no-load)