Pinch Valve
Pinch valve controls the flow of a fluid supplied through rubber tubes with its pinch. It squeezes and releases the supply tube to open and close the flow passage inside. Because fluid only stays and flows through the tube, it eliminates the risk of fluid residue and cross-contamination hence Takano Pinch Valve is ideal for medical and diagnostic equipment which requires hygienic conditions.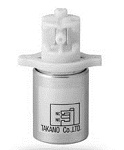 Features
1. Integrated tube stopper mechanism
To prevent the supply tube from falling out, tube stopper is equipped as a part of integral plastics molding on the pinch mechanism. No additional measures are required for falling-out of the tube.
2. Extremely low heat generation with low power consumption
This pinch valve features our unique magnetic circuit designed for significant reduction in heat generation and low energy consumption at startup.
3. Wire lead-out at the body bottom for easy integration
Wire lead-out at the body bottom of the valve makes it easy to integrate into a narrow space in the application.
Series list
| | Outside dimension(mm) | service voltage | Fluid pressure | Usable tube |
| --- | --- | --- | --- | --- |
| TPV-N040 | φ26 ・ 57 | 12V | 0~150(kpa) | I .D 1mm/ O.D 3mm |
Please refer to each product page for detail specifications
Contact us