Electromagnets
TMH-3015
The most slim and light weight model in the series and suitable for use in narrow space.
Applicable for wide purpose such as chuck of various type of automation, robot hand, removal of metal dross.

PDF Download
Specifications
DC Resistance
56(Ω)
Working Voltage
12(V DC)
24(V DC)
Duty Cycle
100(%)
25(%)
Holding Force※1
90(N)
170(N)
Power consumption
2.0(W)
8.0(W)
Coil Saturation Temperature Rise
Δθs(at20°C)
Δθs≒22×W(℃)
K≒22(℃/watt)
Heat-Resistant Class
Class E(120℃)
Insulation resistance
DC500V MEGA, Over100MΩ
Dielectric strength
AC1000V, 50/60Hz, 1minutes
Mass
60(g)
※1

measurement conditions: measured by Takano Co. in a standard testing environment, with the holding side facing up, and with an air gap of 0.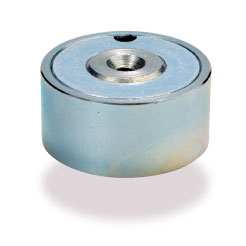 External Dimensions

For improvement and other purposes, specifications, dimensions, etc. of this product are subject to change without notice.
Contact us