Generic 2−Way/ 3−Way Solenoid Valves
H20 Series
Main Specifications
Model Number※1
2-Way
3-Way
H 202 U-XXX
H 203 U-XXX
Valve Type
Diaphragm Type Direct Operated Poppet
Valve Operation
NC (Normally Closed)
[3]:NO
[2]:COM
[1]:NC
Fluid
Air, Water, Pure Water, Chemicals※2
Operating Pressure Range
-90~ 200 [kPa]
Compatible Tube Diameter
3 [mm]
Proof Pressure
300 [kPaG]
Fluid Temperature
5 ~ 50 [℃]
Ambient Temperature
5 ~ 50 [℃]
Ambient Humidity
30 ~ 85 [%]
Flow Factor Cv
0.065
Orifice Diameter
2.0 [mm]
Volume of Valve Chamber
38 or less [μℓ]
99 or less [μℓ]
Enclosure
IP40 or equivalent
Mounting Orientation
at will
Mass
82 [g]
84 [g]
Operating Noise
70 or less [dB]
Life Cycle/Durability※3
10,000,000 [cycles]
Material for
Wetted Parts
Body
PPS
Diaphragm
EPDM
Electrical Specifications
Working Voltage
24V DC / 12V DC
Allowable Voltage Fluctuation
±10%
Power Consumption
3 [W]
Heat-Resistant Class
Class H(180 ℃)
※1

the "XXX" portion represents this model's working voltage. Please choose between E5A & E6A.
※2

please use chemicals that do not corrode the materials used in the wetted part of the valve.
※3

measured by Takano Co. in a standard testing environment.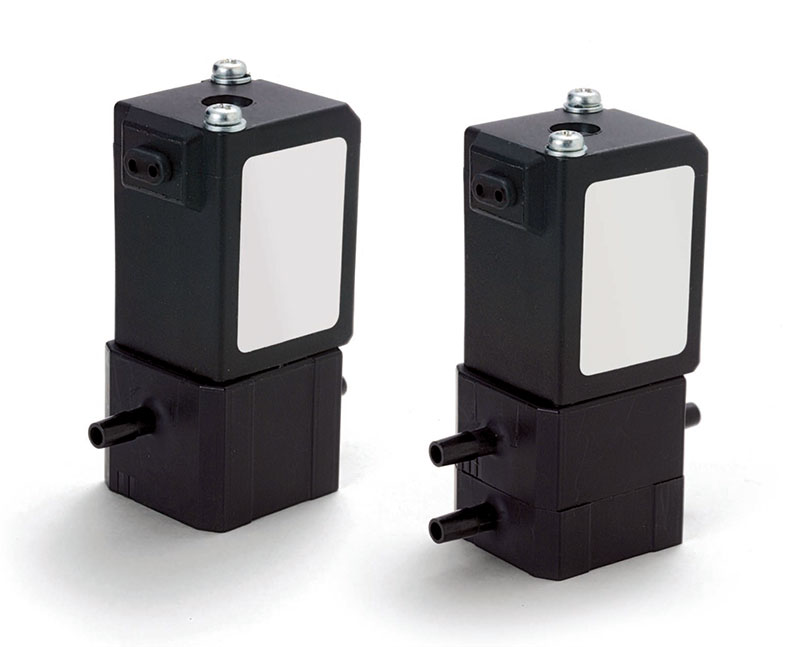 Model number Key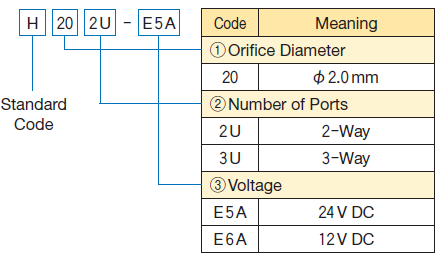 External Dimensions
(mm)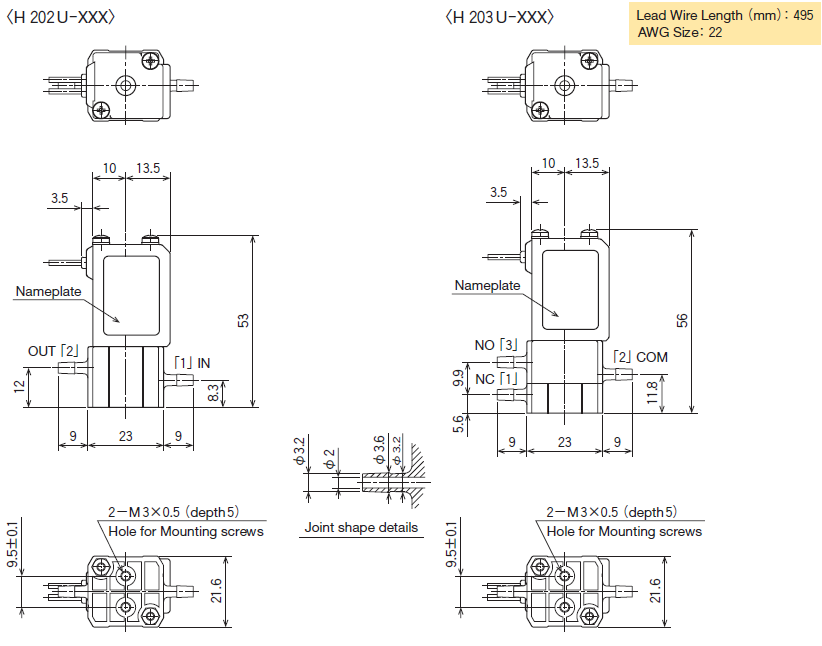 For improvement and other purposes, specifications, dimensions, etc. of this product are subject to change without notice.
Contact us