Bi-stable Linear Optical Shutter LOS0708 New
Takano Linear Optical Shutter LOS0708 utilizes a Bi-stable Miniature Electromagnetic Actuator to generate the linear motion of the shutter blade. This unique structure enables its use in applications where weight and space are at a premium.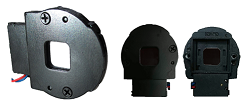 Features
◆Miniature Linear Shutter Actuator – Compact, Low Profile, Light Weight
In addition to the miniature electromagnetic actuator enabling LOS0708 to be compact and light
weight, the linear motion of the shutter blade makes its body low profile.
All of these space saving, easy
integration features dedicate to your application to be compact and light weight.
◆Bi-stable Operation – Energy Saving
  LOS0708 is bi-stable and pulse driven. Energization is only required when closing or opening
  the shutter. ◆Mechanical Characteristics
  It can be simply mounted in the light path with 2 screws. Customization of mounting and frame are
  available.
Specifications
Control/Actuation

Bi-stable

Operating voltage

3.3 -12 VDC

DC resistance

40 Ω

Aparture (Window)

7 x 8 mm

Close/Open speed

≤ 50 ms

Pulse duration

100 to 200 ms

Power Consumption

0.272 W ( at input 3.3 VDC )
3.6 W ( at input 12 VDC )

Operating temperature

-20 to 70 ℃
Life time
100,000 cycles
Mass
7 g
Dimensions